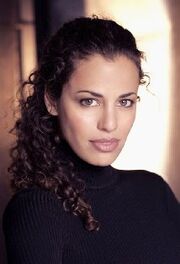 Athena Karkanis is a Canadian born television, film, and voice actress who has provided voices for Producing Parker on numerous occasions.
Her other voice credits include Total Drama, Care Bears: Big Wish Movie, Rainbow Six: Vegas, Diablo III, The Dating Guy', and Star Wars: The Old Republic.
Athena is primarily known for voicing Anne Maria on Total Drama. The voice that she uses for Anne Maria is a slight variation on the voice she used for the Latino Lesbian.